Stal nierdzewna, nierdzewka, INOX to grupa stali o specyficznych właściwościach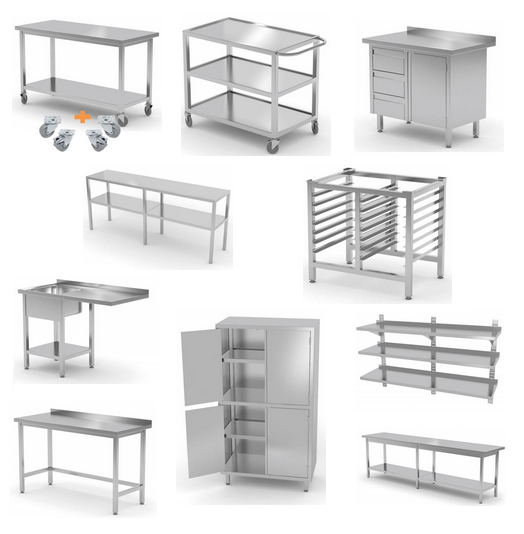 Stal nierdzewna to dziś najbardziej uniwersalny materiał we wszystkich lokalach gastronomicznych. Meble gastronomiczne ze stali nierdzewnej spotkać można niemal we wszystkich kuchniach restauracji, barów, bistro, hoteli, firm cateringowych, stołówek i wielu innych punktów usługowych. Wyposażenie firm prowadzących tego typu działalność gospodarczą musi spełniać jasno określone standardy. Wymagania dotyczące higieny, odpowiednie atesty jakościowe i wszystkie inne, spełnione są w 100% przez meble gastronomiczne ze stali nierdzewnej. Materiały z jakich je wykonano są bowiem w pełni odporne na działanie korozji. Charakteryzuje je wyjątkowa wytrzymałość. Odporne są na różnorodne uszkodzenia mechaniczne, wysokie temperatury i wilgoć. Łatwa w czyszczeniu stal nierdzewna do gastronomii nadaje się jak żaden inny materiał.
Aby obsługiwać niestandardowe zamówienia na meble gastronomiczne ze stali nierdzewnej, XXLgastro posiada zakład produkcyjny który jest w stanie wyprodukować każdy produkt na zamówienie. Gwarantujemy najwyższy standard produkcji oraz innowacyjne rozwiązania konstrukcyjne. Meble mogą zostać wyposażone w kółka lub regulowane nóżki.
Standardowo nasze wyroby wykonane są ze stali nierdzewnej AISI 430, a elementy narażone na najsilniejsze działanie środków chemicznych i organicznych, tj, blaty stołów ze zlewem oraz separatory tłuszczu wykonujemy ze stali nierdzewnej tzw. Kwasówki AISI 304. Wszystkie nasze meble mogą być również w całości wykonane z tego materiału. 
Jakie są zalety używania mebli gastronomicznych ze stali nierdzewnej?
Największą zaletą jest bardzo wysoka odporność na korozję. Trwałość elementów wykonanych ze stali nierdzewnej jest nieporównywalna z większością innych materiałów. Produkty wykonane ze stali nierdzewnej można stosować w agresywnym środowisku oraz poddawać działaniu wysokich temperatur. Kolejną niepodważalną zaletą jest lśniący połysk dzięki czemu produkty oraz meble wykonane ze stali nierdzewnej są nie tylko wytrzymałe i odporne na korozję ale również świetnie się prezentują.



Produkty ze stali nierdzewnej produkowane na zamówienie:
| | | | |
| --- | --- | --- | --- |
| | | | |
| Okapy | Stoły robocze | Nadstawki na stół | Stoły ze zlewem |
| | | | |
| Stoły z basenem | Regały magazynowe | Stoły załadowcze | Szafki wiszące |
| | |   |   |
| Szafy magazynowe | Wózek kelnerski |   |   |

Wszystkie produkty ze stali nierdzewnej w ofercie XXLgastro: stal nierdzewna
Chcesz dowiedzieć się więcej o meblach gastronomicznych ze stali nierdzewnej? Chcesz zamówić produkt o konkretnych wymiarach a nie znalazłeś takiego na stronie?
Skontaktuj się z nami: (22) 247 85 85 lub [email protected]