Jeśli istnieje specjalistyczna potrzeba, istnieje dla niej piec Advance: dziesiątki modeli, 5 rozmiarów, 3 różne gamy... aby spełnić każdą potrzebę.
Najlepsza jakość i wiele funkcji czy prosty i ekonomiczny piec?


Serie Advance firmy Fagor można zaliczyć do jednej z największych gam urządzeń tego typu jakie są oferowane na rynku. Pięć różnych rozmiarów które są podzielone na trzy różne gamy charakteryzujące się różnym wyposażeniem oraz różnymi funkcjami: Advance Plus, Advance oraz Advance Concept.
Piece Advance + to jedne z najlepszych piecy dostępnych na rynku. Produkowane są dla profesjonalistów nie chcących rezygnować z żadnych funkcjonalności. Posiadają najwyższą wydajność na rynku, osiągając idealną równowagę pomiędzy jakością gotowania, prostotą, sprawnością i bezpieczeństwem.
Piece Advance to najlepszy stosunek jakości do ceny w piecach z generatorami parowymi. Są idealnym rozwiązaniem dla profesjonalistów potrzebujących przystępnego cenowo pieca z zaawansowanymi funkcjami, zapewniającego świetne wyniki gotowania, bezpieczeństwo i wydajność.
Piece Concept to proste, ekonomiczne, mocne i odporne urządzenia. Są najprostszą odpowiedzią dla każdego profesjonalisty szukającego ekonomicznego rozwiązania.
 








Powody dla których warto wybrać piece z serii Advance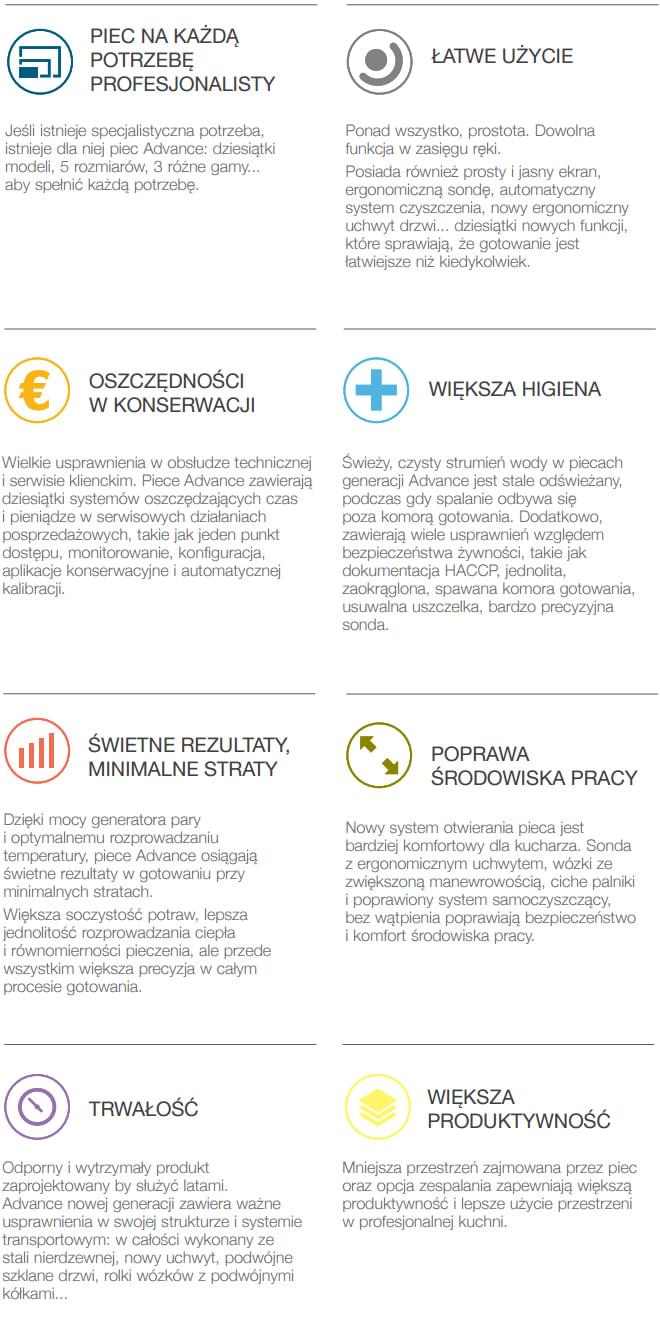 Szukasz idealnego pieca i potrzebujesz porady? 
Skontaktuj się z działem ekspertów i uzyskaj darmową pomoc: (22) 247 85 85